I'm on spring break, which means I have some time to play! I've made a few layouts for DT commitments, and today I thought I'd play just for fun. I joined a
challenge over at A Cherry on Top
.
Here's the challenge I used:
1. A banner (with pennants or other shape hanging)
2. One picture only, any size
3. Washi tape
4. add dimension by using a POP DOT/foam dot to an embellishment, layer, etc.
5. Patterned paper or cardstocks in spring pastel colors (your choice how many)
6. Something oval or egg shape
7. In honor of the spring bunnies – something from "Bo Bunny"
8. A globe or a map
9. Something you've colored
10. And. . . since we all save favorite layouts or sketches – use one of those! I used this one: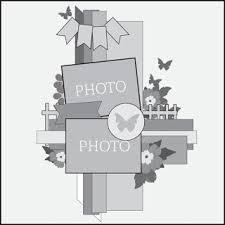 Here's the page I created, for one of my students:
The items I used from the challenge are: banner, BoBunny, sketch, map/globe, pop dots, and washi tape (as well as one photo which I duplicated for the sketch.
Here are some details. My starting point was that flair badge. It was serendipitous. I was putting away a drawer of flair badges as I was cleaning my scrap table from my previous layout's mess, and there it was sitting on top of the pile. The colors were a little strange, but I invaded my scrap drawers and found papers to match. The globe is a die-cut I got super-cheap on ebay. The little camera button is by Shimelle. I used various letters to match up with the color scheme. The chipboard are really old Making Memories. The navy are Jillibean Soup, and the teal and red sticker are by Webster's pages.
The sketch called for a little something in the left corner, and I found this little kraft tag. I added another wooden button by Shimelle. The teal paper is by Simple Stories, and the navy paper is by Little Yellow Bicycle. Those arrows were cut out of an old Sassafras Lass paper. The light blue is really old My Mind's Eye, and I chose it because it matched the blue in that globe. The background paper is Bo Bunny.
So, I had planned to put that border at the top to go with the sketch, but then when I added the black washi tape, the banner didn't show up as well, so I added the enamel dot underneath to bring attention to it. That stamp in the background is by Bo Bunny.
It was so fun to participate in this challenge. I may just try another. There are tons of challenges over there.