I was lucky enough to be asked to be the July guest designer at
A Cherry on Top
.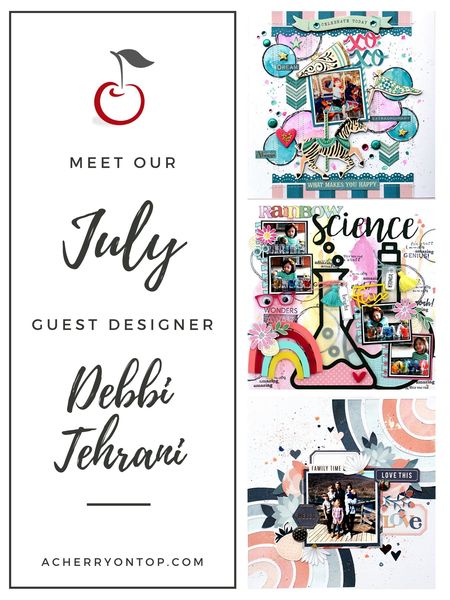 As a part of guesting, they gave me $50 to spend in the shop and asked that I create three layouts and blog posts. Here is my first blog post, which will be published on the ACOT blog soon
:
Happy Little Moment |Fussy Cut Florals
by Debbi Tehrani
Have you worked with the papers by P13 Paper Products? I thought it was a new company because I've only recently been seeing them online, but they've apparently been around since 2006. P13 is a Polish paper company, and I think their products are fairly new in the United States. Their products are full of lush florals and gorgeous, detailed motifs. I used
The Four Seasons – Summer collection
to create this layout:
I knew I was going to do a lot of fussy cutting, and since the designs are so intricate, I decided to use a solid white background. I started out my page by tearing a strip of the bold pink paper (
Paper 5
) from the
6 x 8 pad
to use on the side of the page. I wanted a green layer beneath the pink, but the green paper in the pad had a pattern on the opposite side that I wanted to save, so I went to my stash and found an old green paper that worked with the colors in this collection and used a border punch to add a lacy touch. Some machine stitching gave the border some extra texture.
I scrap 8 x 8, so I usually buy a couple of sheets of 12 x 12 to serve as backgrounds and then a 6 x 6 and/or 6 x 8 pad for layering and embellishing. For this layout, I used both of the smaller pads and did a lot of fussy cutting. The elements in the corners were fussy cut from one papers in the 6 x 6 pad. There's a corresponding print available in 12 x 12, called
Paper 4
. I adhered the cut piece to my layout using foam adhesive, for added dimension. The yellow XOXO circle came from the
#3 Sticker Sheet
. I adhered it to a 1-inch punched circle and added a little puffy heart from my stash because I always add hearts to the layouts I give away, and this is for my niece.
I started building the layers behind my photo and the page felt too empty, so I took a
Tim Holtz Picked Raspberry Distress Oxides Ink Pad
and swiped it down my page several times underneath where I wanted my photo. The
textured white Bazzill cardstock
gives the ink an interesting look. I then rubbed some of the same ink to a sheet of plastic, added a little water, and splattered the ink around with a paintbrush. I also added some green watercolor splats. Once I placed the floral element in the corner, I felt like I needed some flowers on the other side of the photo, so I cut a beautiful bouquet from the
Paper 7
. Some of it was hidden behind the photo, so I cut it in half and layered it behind the other piece. I used some sweet phrases from the
#1 Sticker Sheet
to make some tabs on the layers behind the photo. Before adhering the photo cluster, I added a doily behind it, and then another circle sticker to balance the first one.
If you read my other post, you know that I like to mix old stash in with the new, so I dug through my alphabet stash to find letters in colors that would coordinate with my page. I think mixing up different alphabets adds interest to a title.
I added some enamel dots to the floral clusters and butterflies fussy-cut from a paper in the 6 x 8 pad. I used
Mini Glue Dots
on the body and
3M Foam Mounting Tape
to lift the butterfly's wings. I like using this mounting tape on a roll because you can cut it to whatever size you need, and I needed pretty small bits for these tiny butterfly's wings. Finally, I used my
Pigma Micron fine-tipped pen
to draw outlines around the page and some of the other elements, something I often do to add definition.
P13's papers are just begging to be fussy cut. Make sure you have a good pair of scissors. I love my
Fiskars Micro-Tip Easy Action Scissors
, which are really great for precision cutting and also easy on the hands.
I hope I've given you some ideas for this beautiful summer collection by P13, and I hope I've inspired you to grab your scissors and get fussy-cutting!