I was lucky enough to be asked to be the July guest designer at
A Cherry on Top
.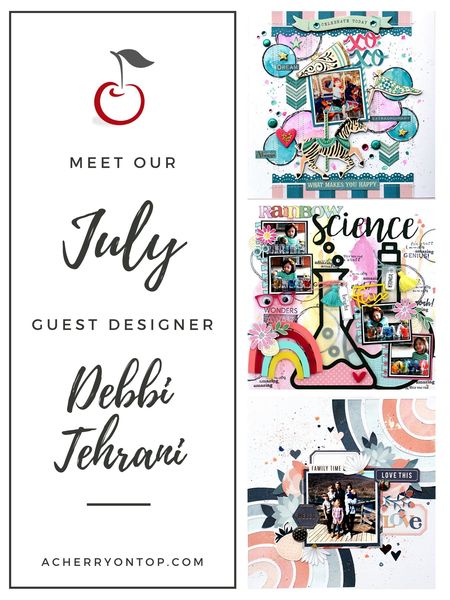 As a part of guesting, they gave me $50 to spend in the shop and asked that I create three layouts and blog posts. Here is my third blog post, which will be published on the ACOT blog soon
:
Read | Playing with Patterned Paper
by Debbi Tehrani
I love patterned paper! There are so many things you can do with just this one scrapbook supply! I'll share a few of my favorite things to do with patterned paper on this layout I created using Photoplay's delightful new
We Can Just Stay Home collection
. Note that I scrap 8 x 8, so the designs will look larger on my pages than on a 12 x 12 layout.
I always look for patterned papers that have designs I can fussy cut and use as embellishments, which is what I did with the B side of the
Family Fun Paper
. Don't you love all those playful rainbows? I cut a bunch of them out and lined them up, overlapping, to make a fun, colorful border. And how adorable are the sloths in this collection? I always add hearts to the pages I give away, and this sweet little sloth hugging a heart was the perfect way to do this, though you'll spot a few more hearts on my layout.
Something else I love to do with patterned papers is to back cut files. I created my title using a Paper Issues alphabet cut file and backed each letter with a different pattern—
Don't Hurry Paper
,
Read a Book Paper
, and two other sheets from the
Collection Pack
. Once the glue dried, I outlined the inside of the cut file with a
Pigma Micron pen
, which I think adds extra dimension without adding any bulk.
If you read my other blog post,
"Something Old, Something New,"
you know I like to add some of my older stash along with newer supplies, and I have a TON of buttons from back in the day when they were trendy as scrapbook supplies, so I added some to my title, along with some twine. I also added some of my older word and phrase stickers alongside one from this Photoplay collection.
You can see I fussy-cut some stacks of books from the
Read a Book Paper
, adding one to the title and one to the left of the rainbows. Enamel dots are one of my go-to supplies when I'm feeling like my page needs a little something-something.
I often use a white background, especially with busy patterns, but sometimes there's just too much white, so I like to create borders, either on all four sides or just two, and patterned papers are perfect for this. I used the striped paper to create borders on the top and bottom, and punched the teal grid pattern to add interest to the top border, layering it with a border punched from red cardstock.
And of course I used pattern papers to add some layers under my photo. Outlining them with a fine
Pigma Micron pen
is something I like to do to add definition to each layer.
Patterned paper is such a versatile and economical scrapbook supply. I created this layout with a few small pieces cut out of 4 sheets of patterned paper, a few stickers, a handful of enamel dots, and a few older items from my stash. And I still have most of each sheet leftover for more layouts!